Bydd fersiwn Cymraeg yr adroddiad hwn ar gael cyn bo hir.
Bangor to Bethlehem 2010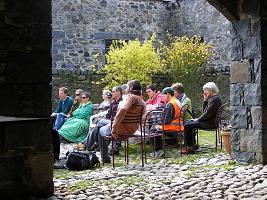 An extraordinary event for Palestine held in North Wales
The Bangor to Bethehem Festival was held at Hendre (a fine group of former farm buildings from the Victorian era, near Bangor, Gwynedd) on the weekend of 16-18 April. This festival for Palestine was the brainchild of Steve Collings, one of the former Bangor university students who established the Bustan Qaraaqa community permaculture centre and international hostel near Bethlehem. Having recently returned to Wales with his Palestinian wife Rania, Steve aimed to raise funds for the project, to raise the issue of Palestine locally and to provide a venue where activists from all over Britain and Ireland could could meet and exchange experiences and ideas.
The festival programme was drawn up by Steve together with the Bangor and Ynys Môn Peace & Justice Group. It was sponsored by CND Cymru; Unison/Unsain; Cynefin y Werin; the Aberystwyth Peace & Justice Network; the Bangor & Ynys Môn Peace & Justice Group; the Karibu Foundation of Norway. It was this generosity which enabled the festival to take place, for which the organisers are truly grateful. Many thanks!
It was a beautiful spring weekend: the last patches of snow were clinging to the peaks of Eryri, the sea was blue and the sun shone. Those camping were happy, although the nights were decidedly chilly. The food, prepared by tireless Palestinian kitchen supremo chef Khaled with the dedicated work of Debbie and assistance from Greg, Rosie and Lindsay, was universally declared to be a great culinary treat. Visitors, speakers and performers were vocal in their support for the festival and everyone agreed they had enjoyed themselves, the venue and the location.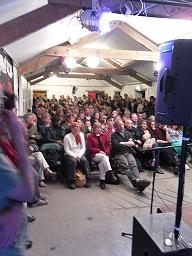 Friday 16 April: Tony Benn attracts a large crowd
The festival was launched with a dizzying percussion session courtesy of Latin Groove Collective, and then opened by GWILYM MORUS, who has done so much for cultural cooperation between Palestine and Wales with his musicians' collaborative project.
The key speaker of the evening was TONY BENN, former Labour statesman and veteran activist, president of the Stop the War Coalition and Patron of the Palestinian Solidarity Campaign. Born in 1925, and admired widely for commitment to principle and to a politics based upon ideas rather than personalities, Tony displayed his old spirit as soon as he took to the stage, fielding questions from a large and varied audience (which overflowed into the back room). His account of the history of Israel and Palestine, the aftermath of imperialism and the political problems of today, was lucid and informative, and well received. This session was chaired by BEN GREGORY of the Arfon Peace & Justice Group.
The London-based comedian IVOR DEMBINA followed with a stand-up show that was really a moving personal history, from his Jewish upbringing to his time as an activist on the West Bank. His frank exposition of areas often regarded as taboo was tempered with jokes to deflate any tensions. His act, much criticised by militant Zionists, was imbued with sympathy and compassion both for his own people and for the Palestinians. It was everything one could wish for from political stand-up – plenty of laughs with a serious core.
Great musical entertainment followed with Gwilym Morus and Henry Horrell, John Lawrence, Hannah Atkins, Dancing on Thin Ice, Igam Ogam &Turnstone. DJs for the session were Hippy Ad and Señor Tim.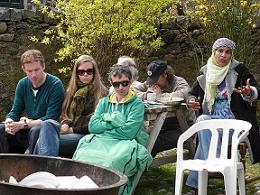 Saturday 17 April: Witness to Gaza and the West Bank
For the Saturday, the hall and gallery were taken over by a wide variety of stalls, including: Bethlehem Fair Trade; the radical News from Nowhere bookshop from Liverpool; the Quakers; Christian Aid; the Green Party; the Socialist Party; Cymru- Cuba; Cymru-Nicaragua; Bangor & Ynys Môn Peace & Justice; Cymdeithas yr Iaith and PAWB (Pobl Atal Wyfla B/People Against Wylfa B).
The day's session was opened by DAFYDD IWAN, president of Plaid Cymru, who expressed his support for the festival and talked about interpretations of nationalism, internationalism and links already established between Wales and Palestine, for example by his colleague Jill Evans MEP. The chaIr was expertly held for the day by STEPHEN THOMAS of the Cardiff-based Welsh Centre for International Affairs.
There followed a presentation about the political and environmental stance taken by the Bustan Qaraaqa project in Bethlehem, featuring STEVE COLLINGS and ROMAN GAWAL.
Lunchtime saw a glorious performance of international songs by Bangor Community Choir led by Pauline Down. This choir just gets better and better! Caernarfon MP Hywel Williams also paid an impromptu visit at this time.
The afternoon session began with a GAZA PANEL and question time. Members included journalists SAMMAH HAMIB and AHMED NAJAR,who described graphically the desperation of people in Gaza, and its effect on their lives; HEBE, who told of how her children had been traumatised by the killings in Gaza, and how they remained so after they arrived in the UK, being terrified of ambulance sirens for example, and SHARYN LOCK, who had sailed through the Gaza maritime blockade, driven an ambulance in Gaza and written an excellent book about her experiences. There were interesting inputs from the Islamic communities of Bangor, Llandudno and Manchester. The variety of political views and aspirations amongst Palestinians present was marked.
The next speaker was Dr BEN ALOFS, a local GP with long experience of working in refugee camps in Lebanon and Palestine, who made two presentations, one about developments within Hamas, the other about the McCarthy-like suppression of the peace movement within Israel, the West Bank and internationally. Ben is always an impassioned yet gentle speaker, and formidably equipped with up-to-date facts and details.
MARY COMPTON, from Powys, is an author and a past president of the NUT (National Teachers' Union) with an interest in global education conditions. Mary had been an international observer at the 2006 Palestininan legislature elections, and her clear and incisive talk pointed up the hypocrisy of those who call for democracy in the Middle East, yet who refuse to accept the result of free and fair elections if they disapprove of the outcome.
The political session concluded with three remarkable contributions from international activists with hands-on experience of Palestine:
BOB WILLIAMSON, London trainer for the International Solidarity Movement.
KAREN CHALK, a serial visitor to Palestine who has worked in Yanoun in the West Bank with the Ecumenical Accompaniment Programme, documenting and reporting human rights violations 2009-10.
PENNIE QUINTON, an experienced human rights activist, has worked with the right to education campaign in Nablus. As a campaigner, she overturned section 44 of the anti-terror Acts in the courts.
Children's entertainments during the day were provided by origami expert Angela Loveridge, storyteller and king of Cae Mabon Eric Maddern, and the festival's vivacious poet in residence Sophie McKeand. Special thanks to to Maggy and co of Replay for their al fresco musical workshops.
Magical gigs in the evening were offered by Musog Klesmer; Will Williams; Gwilym Morus; Mike Payne; Roger Hughes; TG Elias; Stacey Cohen; Banda Bacana; Steve Eaves; Ivan Campo and the Peakz. All the performers and the sound and light crews on both nights did an amazing job. Saturday's DJs were Hippy Ad, Señor Tim and the ever helpful Andy Absurd.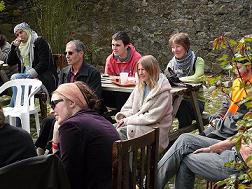 Sunday 18 April: Activists' day and final sessions
On the final morning of the festival there was an informal open-air session in the sunshine, led by SHARYN LOCK, AHMED NAJAR and RICH WILES, author and activist from the Aida refugee camp, whose photographic exhibition at the festival, Our Dreams and Nightmares, featured the work of the camp's children. Rich spoke movingly of the families he knew and the violence they suffered at the hands of the Israeli military. The discussion looked at ways forward, with all agreeing that the role of international activism should be to facilitate the conditions whereby Palestinians would be able freely to decide for themselves what kind of state they wanted to achieve.
The weather being exceedingly kind meant that DAN JUDELSON of Jews for Justice for Palestinians could continue with his session outdoors, with an analysis of the current situation of the Israeli government, its relationship to America and the effects of the boycott and other campaigns. Although there were points of difference on the activities which Dan felt able to support, it was enlightening to hear his views, especially on the current shifts in the political landscape.
Others gathered to watch films, including a Byd ar Bedwar documentary about Welsh activism in Palestine, also films by Norwegian director Tone Andersen. JONATHAN ERVINE of Bangor University led a cinema workshop which showed two clips from '11'09'01 September 11th' a film co-ordinated by French artistic director Alain Brigand. The two segments shown, analysed and discussed, were by Egyptian Youssef Chahine and Israeli Amos Gitai.
Conclusions and thanks
Bangor to Bethelehem was a very worthwhile experience which was effective in its aims of informing, arousing discussion, involvement and analysis, not to mention entertainment.
Accounts for the weekend are still being finalised, as some donations are still to be transferred. Details will be forwarded to group members, sponsors and others once these have been counted in. Money will be forwarded to the Bustan Qaraaqa team. The Bangor group will be looking at lessons to be learned regarding financing, venue, media coverage, internal organisation and participation in the event of future B to B festivals.

Special thanks to Khaled and Debbie, to Rodrigo for a valiant door-keeping session, to Vanessa for decorations, to all the performers, poets and contributors and technicians already mentioned.
All credit to the following group members: Heather Bolton, who worked so hard and performed miracles of organisation; Linda Rogers, who planned and organised tirelessly; Rhona Wyer for her eagle-eyed accountancy skills and door-keeping; Nick Jewitt for logistics planning, driving, proofreading, door-keeping (despite his teenage daughter being stuck in Amsterdam because of the volcanic no-fly zone); Ian Cuthbertson for planning, printing, driving, setting up; Flora Figgins for everything!; Karl Sadil for his help in tidying up and with disability access; Phil Steele for door-keeping, planning, radio interviews, stalls; Francis and Debbie for door-keeping; Adam Pearson for all his hard work with posters, musical acts & crews, Hendre liaison; Roger Hughes, for all his musical liasion, invaluable advice and planning; Jonathan Ervinve for his cinematic contribution. And of course Steve Collings, for his vision and drive in promoting such an ambitious undertaking.