Past Events
An Invitation from The London Guantánamo Campaign
London says... no to torture!
Tuesday 26 June 6-8pm, Trafalgar Square
(north side – outside the National Gallery)

June 26th each year is International Day in Support of Victims of Torture (http://www.un.org/events/torture/). The London Guantánamo Campaign invites you to join us for a vigil to show solidarity with all victims of torture all over the world. For more details: e-mail [email protected] or call 07809 757 176.
www.londonguantanamocampaign.blogspot.com
http://www.facebook.com/events/176774015784254/
http://twitter.com/#!/shutguantanamo
Extradition demonstration

Whitehall, outside Downing Street: Saturday 23 June, 1pm-3pm. Halt the extraditions of Gary McKinnon, Syed Talha Ahsan, Richard O'Dwyer, Babar Ahmad to the United States
Speakers include Ashfaq Ahmad (Father of Babar), Julia O'Dwyer (mother of Richard O'Dwyer) David Bermingham and Kate Hudson (CND). Further details here.
---
Justice for All:
Day of Action for Legal Aid
Justice for All, a coalition of over 3000 charities, legal and advice agencies, politicians, trade unions, community groups and members of the public, to which the Haldane Society is a part, has organised a day of action on Friday 3 June to promote the value of free legal aid and to protest against the Government's legal aid proposals.

Actions for justice are taking place across England and Wales. Locations include Abergavenny, Birmingham, Brighton and Hove, Bristol, Coventry, Eastbourne, Gloucester, Hastings, Islington, London, Manchester, Newham, Nuneaton, Sheffield, Totnes and Tunbridge Wells. To find out where your nearest event is and how you can take part, please click here for details on the Justice for All website.
Peace & Progress has also prepared a briefing document on the Ministry of Justice cuts to legal aid. Click here to read it.
---
Corin Redgrave Memorial Lecture:
Torture and the Death of Justice: Where are we now?
Saturday 18 June, 2pm
Friends Meeting House, Euston

We would like to invite you to a human rights lecture given by Gareth Peirce in memory of Corin Redgrave: Torture and the Death of Justice: Where are we now?

Gareth, if you are not already aware, is senior partner at Birnberg Peirce and Partners, has represented former Guantanamo detainees, people held under control orders in this country, the Birmingham Six, and many other victims of state injustice. She worked closely with Corin over many years.

Malcolm Tierney, a longstanding friend and fellow artist who worked alongside Corin politically for many years will pay tribute to Corin's political life and his dedication to struggle for social justice and human rights.

The lecture will be on Saturday 18th June at 2pm in the small hall at the Friends Meeting House, Euston. Places are limited and so we are asking people who want to come to book tickets and to pay £5 per ticket in advance. The money will be used to cover costs; any that is left over will be donated to Cageprisoners.
---
The General Election and the Immigration Debate;
'the elephant in the room'
Friends Meeting House, Birmingham
Saturday 13 March, 11am-1pm
"The general election is taking place at a time of profound crisis, as natural and man made disasters wreak terrible tragedies across the world. At the last general election we called for a 'world without fear and poverty', a slogan that few could oppose. We face this election with fear and poverty as the only solutions on offer: 'savage' cuts in public services, continued war in Afghanistan, uncritical support of Israel, military build up against Iran, the demonising of immigrants and asylum seekers who flee from war and poverty, and less controversially, though no less significant, attacks on human and democratic rights."

An extract from our discussion document, 'Who Will Decide Our Future?', produced for the meeting. Click here to read the full text.

At our recent 'People in Movement' meeting on the issue of immigration, four main priorities for action were identified:
- To facilitate a discussion about border controls – what Bridget Anderson called 'the elephant in the room' when she spoke at the meeting in November.
- To collect and provide information, including fact sheets, to counter myths and stereotypes.
- To gather together groups of legal specialists to offer information and training to move towards a system of self-representation for asylum seekers.
- To produce fact sheets and a set of questions on the issue to be put to every candidate in the election.
The first of these points will be the focus of another meeting, 'the General Election and the Immigration Debate; the elephant in the room', to be held Saturday 13 March at the Friends Meeting House, 40 Bull Street, Birmingham B4 6AF, between 11am and 1pm.
We hope that you will be able to come along and contribute to the discussion as part of our preparation for the General Election.
---
13 January 2010: more from our meeting,
People in Movement:
The Immigration Debate
حوار حول الهجرة
You can now read Fran Webber's talk from the meeting. Fran began by saying:

"Why is it that the 'immigration debate' is always about numbers - there are always 'too many of them' - and never about the contribution made by immigrants to our economic, social and cultural life? What is the comparative contribution of immigrants and bankers? What is the comparative cost to the economy? The drain on resources? No-one asks these questions."

Click here to read the full text of the talk.
---
6 December 2009: Update on the recent
Peace & Progress Public Meeting:
People in Movement:
The Immigration Debate
حوار حول الهجرة

download our leaflet in English, Arabic or French
for more information
On Saturday 14 November Peace & Progress held a very successful public meeting at the Friends' Meeting House on Bull Street, Birmingham, with speakers Bridget Anderson, Sue Conlan and Fran Webber.

Fran Webber began her contribution on trafficking by saying:

"Trafficking is in the news. It is on the political agenda, both nationally and internationally. The Burmese junta and the British government can publicly agree. Thousands of individuals, hundreds of groups, dozens of newspapers are determined to stamp it out. This public concern with trafficking consistently reflects and reinforces firstly a deep concern with prostitution/sex work, and secondly a concern about immigration, abuse and exploitation. To challenge the expression and some of the actions taken as a response to this concern is akin to saying that one endorses slavery or is against motherhood and apple pie. It is a theme that is supposed to bring us all together. I want to talk about trafficking because it's an example of how government has hijacked the language of rights and human rights and used them to disempower migrants and up immigration control."
To read Fran Webber's contribution in full click here.

The speakers were:

Bridget Anderson, Head of the COMPAS (Centre on Migration, Policy and Society, Oxford University) programme on the 'Means of Migration'.

Sue Conlan, immigration lawyer, secretary of Peace & Progress and author of Migration, Human Smuggling and Human Rights: a UK Perspective.

Frances Webber, former human rights lawyer, political activist and author of Asylum: from deterrence to criminalisation.

Click here to read Foreigner: Victim or Villain written by Bridget Anderson for Open Democracy as a contribution to what we hope will be an ongoing and developing discussion.
---
End Anti-Gypsy Racism

Protest Rally outside Royal Courts of Justice
Friday 24 September 2010, 11am - 12 noon - Strand, London, WC2A 2LL. Nearest Tube: Temple
Dale Farm Latest: Travellers under pressure to abandon community living
Though facing imminent eviction, a senior couple have made it known to a judge that they can't accept a council flat because their lives depend on staying within their ethnic community.

John and Mary Flynn's case before Southend County Court, adjourned for a month on Thursday (16 Sept) seemly likely to become a test of the right of Travellers to maintain some essential elements of their traditional mode of living...

Read the full article here.
---
Peace & Progress Public Meeting: Migration & Human Rights in a Global Economic Crisis
Held in Birmingham on Saturday 20 June. For more information on the event, please click here.
---
A Tale of Two Conventions

With both civil liberties and the global economic climate currently very much in the spotlight, this report provides details of two recent conferences that set about to address the issues we face.
---
Wales Peace Festival 2008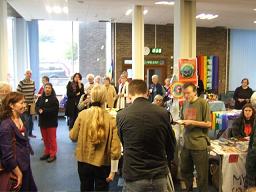 2008's Wales Peace Festival took place in Bangor, with contributions from groups and inviduals from all over Wales. For the details of the events held at the festival, and a full Peace & Progress report, please click here to visit our dedicated festival page.
---
Gaza Crisis: Campaigns in Wales
Two protests took place on Sat 3 January in Gwynedd, one of many taking place across Wales, England, Scotland and the whole world. The first in Caernarfon was organised by Arfon Peace & Justice and attended by about 40 people. Speakers included Dafydd Iwan and Hywel Williams MP (Plaid Cymru Caernarfon). Ben gregory reported a favourable reception from shoppers, who generally supported a boycott of Israeli produce. The second was in Bangor and was organised by the local Islamic Centre. Both were supported by Bangor & Ynys Môn Peace & Justice. About 100 people marched to the High Street clock to hear speeches from many members of the local Moslem community, led by imam Mirwas Khan, from Hywel Williams MP, from the Rev John Butler, from Linda Rogers of BYMPJ.

Marchers were interviewed for BBC Cymru & BBC Wales.
FOR NEWS COVERAGE ONLINE
see/gweler:
- http://news.bbc.co.uk/1/hi/wales/7809634.stm
- http://news.bbc.co.uk/welsh/hi/newsid_7800000/
newsid_7809500/7809551.stm
---
Captivated: the Art of the Interned

A unique art exhibition from Cageprisoners and 'Together: Working for Wellbeing' featuring works by those detained without trial. The exhibition, held for three weeks in London during June and July, highlighted the mental health issues and hidden human tragedy of detainees.

Click here to read a report and see pictures from the exhibition
---
Haltemprice and Howden By-Election

Members and supporters of Peace and Progress took part on Saturday 5th July in the debate about the defence of human rights in the by-election in Haltemprice and Howden caused by the resignation of David Davis.

To read the leaflet we distributed in the constituency, please click here.
---
---
The 'War on Terror': Seven Years On from the Terrorism Act
Saturday January 19th 2008, Location: Roehampton University, London

Speakers included:
■ Moazzam Begg, former Guantánamo detainee and spokesperson for Cageprisoners
■ Chris Cooper, Chair of Peace & Progress (Keynote Speech in MS Word format)
■ Liz Fekete, Deputy Director of the Institute of Race Relations
■ Stephanie Harrison, Human Rights Lawyer and founder member of CAMPACC

Download a discussion document from the conference.

---
The Struggle for Human Rights:
a Meeting to Launch 'A World Without Fear or Poverty'
Saturday June 24th 2006, Location: London

Click here for contribution to the meeting by Chris Cooper, Chair, Peace & Progress, and here for contribution by Denis Halliday, former UN Assistant Secretary-General (PDF format).

You can also read the Peace & Progress manifesto launched at the meeting, A World Without Fear or Poverty, by clicking here.

---
Founding Conference
Saturday November 27th 2004 , Location: Royal National Hotel, London
---
A World Free from Fear - Is there a conflict between national security and human rights?
Symposium, Sunday November 7th 2004 2pm, Friends Meeting House, Euston, London

Speakers included:
Shami Chakrabarti (Liberty)
Les Levidow (CAMPACC)
Elizabeth Little (Director, Refugee Arrivals)
Sarah Ludford MEP
Corin Redgrave (Peace and Progress)
Philppe Sands QC (Professor of International Law, UCL)
Chair: Vivian Yates
---
A Future free from fear?
A symposium to discuss the War on Terror and its consequences for human rights, Saturday October 23rd 2004 2pm, Central Library Theatre, Sheffield

Speakers:
Sue Conlan (immigration lawyer)
Jillian Creasy (Sheffield City Councillor, Green Party)
Michael Ferguson MLA West Belfast (Sinn Fein)
Saleh Mamon (CAMPACC)
Charmaine Roche (Peace and Progress)

---
All our tomorrows - the future for human rights

Symposium, Saturday October 16th 2004 2pm, Carrs Lane Church Centre, Carrs Lane, Birmingham

Speakers:
Azmat Begg (Father of Guantanamo detainee Moazzam Begg)
Natalia Garcia (Human Rights Lawyer)
Corin Redgrave (Peace and Progress)
Phil Shiner (Public Interest Lawyers)
Massoud Shadjareh (Islamic Human Rights Commission)
Chair: Vivian Yates

---
A world free from fear

A public meeting to discuss the War on Terror and its consequences for Human Rights, Thursday October 14th 2004 7:30pm, Merrick Lodge Hotel, Coventry

Speakers:
Sue Conlan (immigration lawyer)
Christine Oddy (former Labour MEP)
Canon Paul Oestreicher (former Director for the Centre for International Reconciliation, Coventry Cathedral)
Philippe Sands (Professor of International Law, UCL)
Dr Madeleine Sharp (local peace campaigner)
Vivian Yates (Peace and Progress)
---
Justice for Feroz Abbasi and Moazzam Begg
Meeting, Wednesday July 23rd 2004, Library Theatre, Birmingham
---
Britain's Guantanamo: Internment Without Trial in Belmarsh
Symposium, Sunday February 15th 2004, Friends Meeting House, Euston, London
One People, One World
Meeting held in Birmingham on September 21st 2003