News Archives
---
Palestine: Protest in Bangor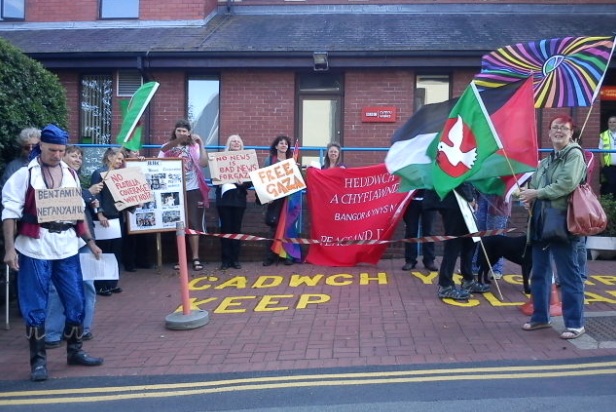 A demonstration was held outside the BBC Cymru offices, Bryn Meirion, Bangor on Thursday evening, 7 May. Its aim was to draw attention to the BBC's news coverage of Palestinian affairs. The illegal dentention in Greece of the Freedom for Gaza flotilla bringing aid to the besieged city, surely a major international news story, had been barely reported, said the protestors. They referred also to research by the Glasgow University Media Group, whose monitoring of broadcast output over the years has confirmed a tendency to bias, of emphasising the official line of the Israeli government and of ignoring the experience of both Palestinians and Israeli peace campaigners. The protestors also pointed out that despite numerous official complaints, the BBC had not changed their stance. The demonstration was organised by Bangor & Ynys Môn Peace & Justice Group. For the group, Phil Steele said that the BBC's reputation for impartiality was being harmed, as were chances for resolution of this enduring conflict in a peaceful manner. A letter was handed in, to be passed on to those journalists responsible for international affairs.
Click here to view the open letter, and here to view a supporting article, providing additional background.
---
'Freedom for Palestine':
OneWorld Single Launch - 31 May
This message from War on Want:
War on Want, along with PSC, ICAHD, Friends of Al Aqsa, Stop the War, Jews for Justice for Palestine among a number of other groups have come together with international musicians inclusive of members of the internationally acclaimed dance act – Faithless and artists such as the Durban Gospel Choir. The song has a real feel good factor about it also has a solid political message and we're hoping can it can get into the top 10 and be a chart smash, raise funds for Palestine and bring the issue to a broader UK audience and mainstream the issue.
There's already a number of high profile people who are supporting this, but the success of this, as with any campaign, is going to be down to groups and individuals UK wide pushing the song as much as us. This song has every chance of making history and we want you to be part of that – It's the first commercial political song about Palestine and fingers crossed it could be as big as the "Free Nelson Mandella" song from the 80's.

Click here to download a flyer.
You can also visit the FreedomOneWorld website.
---
Libya: dragged away for reporting rape
The global web campaign organisation Avaaz has released the following statement on the case of Iman al-Obeidi. Please click here to sign the petition to help secure her release.
Last Saturday, a young woman lawyer named Iman al-Obeidi burst into a Tripoli hotel and pleaded with foreign journalists for help, showing bruises and crying that she had just been gang-raped by 15 of Qaddafi's men. She screamed as she was dragged away by Libyan agents and has not been seen since.
Words cannot express the courage Iman showed in speaking out -- and we can only imagine the terror she must be facing right now in the hands of Qaddafi's infamous thugs. Her life is in danger, but we can help, if we act fast.
Qaddafi will ignore most international outrage, but he listened to the Turkish government when they asked him to release foreign journalists. Let's urgently raise a massive global call to Turkish Prime Minister Erdogan to help save Iman -- sign the petition and forward this email to everyone - it will be hand-delivered to the Turkish consulate in Benghazi, and through ads in Turkey, as soon as we reach 500,000 signatures.
Iman said she was stopped at a Tripoli checkpoint and detained for two days, enduring rape and beatings by 15 state security men before managing to escape. She said other women were still being held by the regime thugs.
The men who raped Iman probably thought she would never dare to openly challenge Qaddafi's terror-apparatus, or endure the shame of publicly admitting rape in a conservative society where all too often the woman is blamed for such crimes. But she has dared to break the silence that surrounds so many victims of Qaddafi's brutality and of sexual violence everywhere.
The regime has called her a prostitute and promised to charge her with defaming government forces. But Libyans have demonstrated on the streets in force to stand with Iman and support her, and Turkish influence with Qaddafi could still be enough to free her. Let's stand with Iman al-Obeidi, who dared to stand up to her tormentors and cry out for truth and justice – sign below to call on Turkey's Prime Minister to act, and forward this email widely..
Right now a brave young woman has risked everything for the values we all share, and is facing terrifying consequences. Let's do all we can to save her.
Click here to sign the petition.
---
Poverty and the 2011 Budget
The Joseph Rowntree Foundation has issued a point-by-point response to a number of announcements made by the Chancellor of the Exchequer in this year's Budget, with particular emphasis on its impact on the poorest in society.

Please click here to read JRF's conclusions in full.
---
IRR responds to Cameron
Munich speech
In response to David Cameron's speech in Munich where he 'blamed the state doctrine of multiculturalism' for creating 'segregated communities' the Institute for Race Relations reprints an anlysis of multiculturalism, first written after the bombings in London in July 2007.
The article differentiates 'multiculturalism' as statement of fact or description and as policy. The point is made that as it became separated from grass roots anti-racist work it descends into ethnicism which leads to competition and separatism. The full article is available here.
---
Human Rights Watch: Middle East Uprising
Human Rights Watch has observers across the Middle East providing reports and eyewitness accounts of what is happening in Cairo, on the Tunisia-Libya border, and in Libya, Bahrain and Morocco. Click here to read live updates from the organisation.
HRW is also campaigning to demand that the African Commission on Human and Peoples' Rights take action to stop the widespread human rights abuses taking place in Libya now. Click here to read more.
---
Justice for All
Justice for All is campaigning against the government's proposed cuts to Legal Aid and wants to ensure everyone is treated fairly under the law, no matter who they are, how much money they have or where they live.
They believe free, independent advice and representation on legal matters is essential to achieve justice for all. More can be read about the government's green paper on Legal Aid on the Justice for All website, here.

You can also click here to read the green paper itself here, on the Ministry of Justice website.
---
Babar Ahmad was first arrested at his Tooting home on 02 December 2003 by UK anti-terrorist police of 1 Unit 1 Area Territorial Support Group based at Paddington Green high-security police station. By the time he arrived in the custody suite of the police station, he had sustained at least 73 injuries, all later documented by both police and independent doctors, as well as in photographic and video evidence.
He filed a formal complaint that was supervised by the Independent Police Complaints Commission (IPCC). He complained that officers had beaten him with fists and knees, stamped on his bare feet with boots, rubbed metal handcuffs on his forearm bones, sexually abused him, mocked the Islamic faith by placing him into the Muslim prayer position and taunting, 'Where is your God now?!', and applied life-threatening neck holds to him until he felt he was about to die.
On 10 September 2004, the Crown Prosecution Service (CPS) announced that there was 'insufficient evidence' to prosecute any of the police officers involved in the attack. However, on 17 January 2005 the IPCC declared that PC Roderick James-Bowen (born 1971) would face internal police disciplinary procedures over the assault.
On 13 April 2005 PC James-Bowen was cleared at a Police Misconduct Tribunal held at Woolwich Crown Court. Metropolitan Police Commander Andre Baker, the President of the Tribunal, stated that PC James-Bowen should be 'commended, not castigated... for his great bravery' in arresting Babar Ahmad.
On 18 March 2009, however, Babar Ahmad was awarded £60,000 compensation at the High Court in London after the Metropolitan Police Commissioner Sir Paul Stephenson admitted that he had been the victim of a 'serious, gratuitous and prolonged attack.'
On 26 March 2009, Mayor of London Boris Johnson announced an inquiry into the Babar Ahmad case with external judicial oversight by retired judge Sir Geoffrey Grigson, to report back to the Metropolitan Police Authority.
On 03 November 2009, following his acquittal in a separate racial abuse trial, 42-year old PC Mark Jones of 1 Area TSG was named as the principal perpetrator of the attack on Babar Ahmad. The Director of Public Prosecutions, Keir Starmer QC, announced that he was taking the case 'very seriously' whilst considering whether to prosecute PC Jones and the other officers involved in the assault on Babar Ahmad.
On 8 July 2010 the European Court temporarily freezes the extradition of Babar Ahmad to the US.
On 12 August 2010 the CPS agree that there is now 'sufficient evidence' to prosecute police officers. Click here to read the BBC News report on this.

Click here to read an Independent interview with Babar Ahmad.

And click here for an article by Gareth Peirce, presenting the case against extradition.
---
ELECTION STATEMENT:
The Trouble with Immigration
Based on the results of recent meetings and discussions, Peace & Progress has released a new document featuring a statement on immigration, and a set of questions to put to prospective parliamentary candidates in the general election.
Click to download the statement and questions.
We're encouraging people to send the document to the candidates in their constituencies and to ask them the questions, as well as passing the document to other individuals, groups and networks who may find it useful.
---
Refugee Council Report:
Chance or Choice?
The Refugee Council has released a report, 'Chance or Choice?', the result of research it commissioned into how and why asylum seekers come to the UK, and the extent to which they do so out of active choice or as a result of circumstance.

Click here to read the report, and a research summary.
---
Special Report:
From Bangor to Bethlehem

The international festival for Palestine took place in Bangor on the weekend of 16-18 April, featuring talks by prominent speakers, film, workshops, exhibitions, live music and entertainment.

Click here to read a full report from the festival.

Or visit the main Bangor Peace website.
---
Update: Crisis for Democracy
Stuart Weir and Stuart Wilks-Heeg of the Democratic Audit have recently produced a pamphlet entitled The Unspoken Constitution - 'a unique, satirical account of how we are governed in the United Kingdom.'

This from Peter Oborne's foreward to the pamphlet:

"The Unspoken Constitution sets out with deep penetration and astonishing clarity the real state of the British Constitution at the start of the twenty-first century. It explains how democracy is withering away; how the traditional functions of the civil service have been handed over to big business; and how all but 200,000 people - the swing voters in marginal constituencies - have been denied a meaningful vote in general elections."

Click here to view the pamphlet in its entirety (or right click to download).
---
Crisis for Democracy
According to Thomas Jefferson "The remedy for the ill of democracy is more democracy". Our electoral system is in critical need of greater democracy and renewal, lacking credibility with the electorate, unrepresentative and undermined by the 'expenses' scandal. As we approach the next election the case for electoral reform is overwhelming.
6 December 2009: update from
the Convention on Modern Liberty
The Convention on Modern Liberty was held in London 28 February 2009. Peace & Progress was a participant. The organisers of the event have now forwarded this update to all the participants.

Dear participant,
This is a personal message to everyone who attended the marvellous Convention on Modern Liberty on 28th February. As we can send one post-Convention email I have held it back until we have positive news on how to carry forward the open-minded, radical spirit of the day.
The Convention's initial funders, the Joseph Rowntree Reform and Charitable Trusts have launched Power2010 to create a campaign for a new politics. It is chaired by Helena Kennedy. Guy Aitchison and Clare Coatman who were central to the Convention team are both working for it. Please support them ...
If you feel you can't quite believe how the British state is expanding its powers, fiction might help. I recommend my Co-Director Henry Porter's truly gripping, refreshing and highly relevant political thriller, The Dying Light. It won't disappoint you.
The profoundly troubling transformation of the intrusive, controlling and arbitrary powers of government continues as the first ID cards are issued. The Convention's sponsors and partners are gearing up for what everyone expects to be a challenging election year that will demand active support and engagement of every kind. Please support them as much as you can: NO2ID - Unlock Democracy - Liberty.
On the wider arguments, don't forget that our Media sponsor the Guardian has a special section liberty central, and on openDemocracy, which helped sponsor the Convention, OurKingdom debates power and liberty across the UK and links to ongoing work by other supporters of the Convention like Liberal Conspiracy, the Democratic Audit (who have just published a pamphlet that sets down in detail our hilarious actual constitution) and the Institute for Ideas.
A full archive of the Convention, including video, audio and transcripts of the sessions and coverage of it can be found on the now archived website, www.modernliberty.net. A video of Philip Pullman's exhilarating keynote address is on the landing page. You can also find a history of how the Convention was made and background documentation. Finally, Rosemary Bechler is editing a book of the Convention which will be published in the new year.
I want to thank you very much indeed for participating in the Convention on Modern Liberty. As Lord Bingham said, we have lit a candle and we will all work hard to ensure it is not extinguished.

Best wishes
Anthony Barnett
Co-Director, Convention on Modern Liberty.

Some useful articles:
Labour may never, ever win power on its own again: Andrew Rawnsley on the decline of two-party politics in Britain, from The Observer, 19 July 2009
(click here to read the article)

Gordon Brown's golden chance to overhaul the political system: Neal Lawson on the opportunity for voting reform, from The Observer, 26 July 2009
(click here to read the article)
For all those wanting to wanting to look deeper into the crisis we face and its underlying causes, we recommend Power to the People, the full report of The Power Inquiry published 2006 after extensive research into the decline of state of our democracy.

"The POWER Inquiry was set up in 2004 to explore how political participation and involvement can be increased and deepened in Britain. Its work is based on the primary belief that a healthy democracy requires the active participation of its citizens."

Click here to read the report, Power to the People.
---
FREE PALESTINE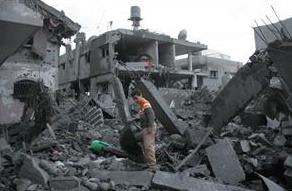 Please see this link for archived material on the Gaza conflict.
Aftermath in Gaza
An Islamic Human Rights Commission Report
by Musthak Ahmed and Fahad Ansari
AFTERMATH: Gaza in the days after The 22 Day War, by Musthak Ahmed and Fahad Ansari, is a diary account of two lawyers who visited Gaza to collect testimony from victims of the war.

In the days after the 22 day assault on Gaza two of the IHRC team visited Gaza with the purpose of taking detailed testimony from the countless victims of aggression: those who lost family, homes and businesses, or were maimed and psychologically injured.

"In the light of Israel's banning journalists from Gaza, Musthak Ahmed and Fahad Ansari's first-hand account, on behalf of the Islamic Human Rights Commission, of what had happened there is informative and valuable. Their report introduces us to some of the Palestinians whose suffering we first heard about through the filter of a censored media. What the media ultimately told us of Israeli targeting of hospitals, ambulances, schools, mosques, parks is here confirmed and enlarged on. Ahmed and Ansari describe not only the slaughter but the blatant and obscene racism even in graffiti. They also report Gazans' desire for peace as well as the determination and defiance even of the children. This is what we hear little about. The Palestinians refuse to be driven out despite the pain and suffering the Gaza war still causes and the suffocating Israeli blockade which continues."

"Ahmed and Ansari contrast the welcome and generosity of Palestinians despite their impoverishment, with the rough uncaring treatment they received from officialdom in Egypt. The armed police were reluctant to let them cross into Gaza and inspired fear even when the two men were on their way home to Britain."
- Michael Kalmanovitz, International Jewish Anti-Zionist Network (UK)
To download the report in full click here.

The Right to Self-Determination
Click here to read Peace & Progress' statement on the right to self-determination for the Palestinian territories.
Palestine Web Resources
For more information on the situation in Gaza and more general information on the Palestinian Territories please visit the following links:


Palestinian Solidarity Campaign
A British lobby group campaigning for the right to self-determination for people in the Palestinian Territories.

Islamic Relief
Organisation distributing food and medical relief to the people of Gaza.
Medical Aid for Palestinians
Group dedicated to bringing vital health resources to the Occupied Territories
Interpal
British charity raising funds for the Gaza Emergency Appeal
Palestinian Centre for Human Rights (Gaza)
Human rights news and information with the latest developments from Gaza
International Jewish Anti-Zionist Network
Worldwide Jewish organisation supporting the liberation of Palestine
Gush Shalom
Israeli-run website advocating a move towards peace and conciliation by Israelis with the people of Palestine.
B'Tselem
Human rights information site for the Occupied Territories
---
Urgent Action for Binyam Mohamed
3 February 2009
This from the London Guantánamo Campaign:
An article in Sunday's Observer states that Binyam Mohamed is currently "close to death":
http://www.guardian.co.uk/uk/2009/feb/01/guantanamo-usa-hunger-striker

Further information about how close to release Binyam is can be read here: http://www.cageprisoners.com/articles.php?id=27496

Please write as a matter of urgency to the Foreign Office demanding immediate action to bring Binyam back to the UK. Please email David Miliband at [email protected] asking for Binyam to be returned immediately to the UK.