Justice for Feroz Abbasi and Moazzam Begg
A report from the meeting held on Wednesday 23 July at The Library Theatre, Birmingham
by Charmaine Roche
Main speakers:
Gareth Peirce, representative for the family of Moazzam Begg.
Corin Redgrave, actor and human rights campaigner.
The Justice for Feroz Abassi and Moazzam Begg public meeting has provided a significant boost to the campaign for the repatriation of the British citizens being held in Guantanamo Bay. The decision to locate the meeting in Birmingham has particularly led to increased media attention on the case of Moazzam Begg who lived in the Sparkhill area of the city. Moazzam's father, Azmat Begg and Moazzam's close friend Fraz Awan, both spoke about his character and the motivation that took him to Afghanistan. They both told how a long time ambition to teach children in poor countries led Moazzam to move with his wife and three small children to Afghanistan.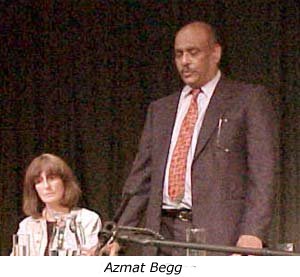 The picture that emerged of his character is captured by Fraz Awan's description, "Moazzam was well known by friends and people in community for his beautiful, noble kind character, which was during the time when I was getting to know him.
"He used to hold classes for children about Islam and the beauty of Islam where I used to accompany him to learn myself, this way we became close friends.
" He was a very giving, loving, sincere, hospitable, peaceful person which is only a small reflection of a Muslim's character."
Azmat Begg spoke with deep emotion about the conditions under which his son had been arrested, and subsequently detained first at Bagram Air Base in Afghanistan for one year and then transported to Guantanamo. His son's letters tell only some of the horrors he and undoubtedly the others are facing as captives. While in Bagram he was denied food and sleep.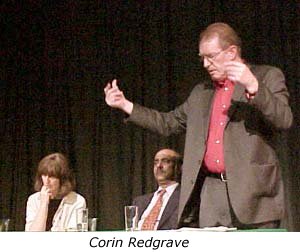 Corin Redgrave, actor and human rights campaigner, spoke about the reasons why this Government has abandoned its responsibility for the nine British citizens and two British residents held at Camp Delta. He emphasised that the Government could use far more of the means at it's disposal to secure these men's repatriation. There is one simple reason why they do not. That is they believe that they are where they should be. Britain, he continued, has its own 'camp', Belmarsh prison where men are kept indefinitely without charge or prospect of a trial in cells smaller than those at Guantanamo.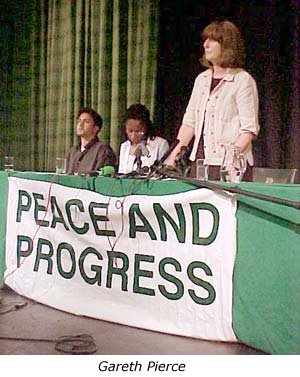 Gareth Peirce particularly focussed her words of criticism on the Attorney General, Lord Goldsmith, who has had a promise that neither Moazzam nor Feroz will face the death penalty and would be able to pick lawyers and be tried in public. However since none of these concessions take into account the fundamental illegality of the mode of arrest and conditions of detention Ms Pierce makes the charge that Lord Goldsmith is cooperating with the Bush administration in destroying international rights laws. "He cannot pretend that he has got a fair trial for the captives. Instead we have been told that he has achieved some minor improvements. You cannot improve something that is fundamentally illegal."
During the discussion many ideas emerged about the possibilities of future work to secure the release of the detainees. More public meetings and pickets outside US embassies in major cities;, demonstrations, a yellow ribbon campaign on behalf of the prisoners, a letter writing campaign and lobbies of all the MPs representing constituencies of the nine British detainees.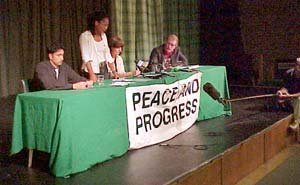 The meeting was covered by both national and local tv and radio. To our surprise the event also attracted a French film crew. Features were run throughout the following day based around the contributions made by speakers at the meeting and follow up interviews.
Peace and Progress has pledged as a minimum to network all the organisations and individuals wishing to participate in such a campaign.
Please write in if you wish to be part of this network; post any comments you may have on the forum. This is just the beginning.
Charmaine Roche